Our Makers
Our list of Makers is a work-in-progress.
In time we hope to build a page with the stories of our current makers.
Amanda is the maker behind Spiral 21
Amanda has been spiralling her rainbow magic for 4 years now with her beautiful hand dyed garments and linen's. What started as an activity with the kids over the holidays soon turned into more than just a hobby, she was hooked! She is always learning new techniques and trying new dyes. One step into this beautiful stall and your filled with coloured happiness.
Amanda's advice for growing your passions is to "Just do it!. Make the time, try everything" And loves the saying "Life is not about waiting for the storm to pass, It's learning to dance in the rain"
https://www.facebook.com/spiraltiedye/

Tom Cartmill is the maker behind Tom's Flutes: Bamboo and wooden flutes.
Tom is one of 10 children raised in northern New South Wales and only found his passion when making bamboo and wooden flutes. Taught by one of the best – Charlie from Blue Bare Flutes, he has gravitated to the North American native style flute as a personal favourite.
All his flutes are made only with natural products like eucalyptus or tea tree oil, before being finished with a wax polish. Tom's flutes are easy to play with a 5 note scale; all customers will receive the flute fingering and major keys and tomes to get you started.
Marilyn is the maker behind MK Gallery
Pet art creates for you meaningful, personal gifts perfect for birthdays, anniversaries or event to capture a memory of a loved lost pet that has passed over the rainbow bridge.
Marilyn has been painting all her life and although had been painting abstract acrylic found her passion painting animals and finding their individual character and bringing them to life on canvas. Marilyn will paint any pet from an Ant to a Zebra. Feel free to bring along a few photos of your pet and have a chat to Marilyn about the endless creative possibilities.
Her most recent goal is to make MK Gallery a convergence of artists that can work with customers to create unique and valued pieces.
https://mk.gallery/
https://www.facebook.com/TheMKGallery/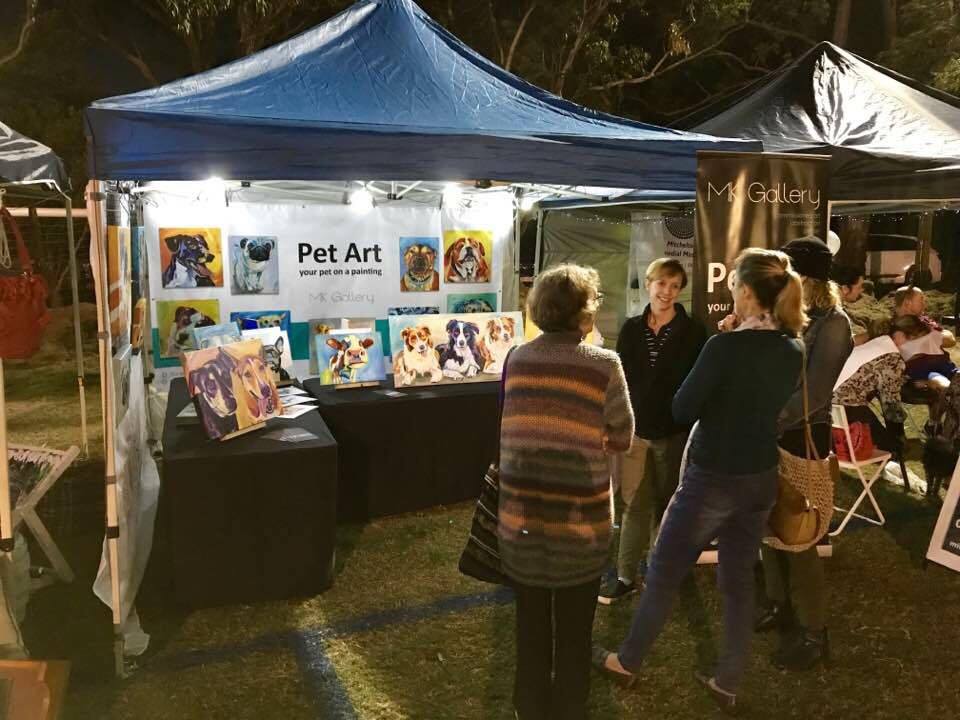 Rod and Wendy are the makers behind Rod's Wooden Toys
Rod has been making these nostalgic wooden toys for 7 years. When he retired he joined a wood club and had a go, he made many toys and would send them to charities. A friend asked if he would like to sell some at her market and they were excited at how much they sold and have never turned back. Both Rod and Wendy especially love the Mitchie Markets because of the great family atmosphere and deliberately keep the prices down so more children and families can play and appreciate his work, the more they sell the more Rod can make and that's what it's all about.
At the time of printing Rod and Wendy have been present at every Mitchie Makers Market (20 and counting!).